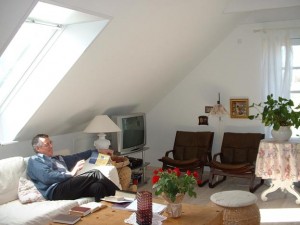 The door stands open and we welcome you to join us in a good place,  This is a place where you can sit down,  kick your shoes off, and think about the day,
I used to have one of those glass chopping boards with  a picture.  It showed a chalet kitchen in the mountains.  Everything was of mellow wood, with a old stove and a big rocking chair.  It was neat and inviting, and warm.  You could almost smell newly baked bread. On the chair a curled up cat lay asleep.  Outside it was early evening and the door was open to show pink and red begonias and pots of geraniums.  Beyond was a path winding down across an Alpine meadow.  A man and his dog had felt the call to take a walk before bedtime.   I always used to try to see where they were going, but in the haze it was never clear.  It might have been down to a lake or a wood. It always kept me guessing! But  they would have come back up the path at peace in heart and mind.
The weekly post will  show how you can deal with the issues of life, that bring you down.  Maybe  each day brings more pressure, doing what has to be done, never being quite satisfied, and never entirely successful? You feel vaguely restless? Disappointed because nothing works out? Or you have about given up?
You have found there is no good in talking to anyone else about it. For one thing you could not put it into words, and then too,  everyone else is in the same situation. No-one ever says anything that really reaches to the heart of things.
The scary thing is that time is running. With every big birthday yet another milestone passes, and you are none the wiser about what is going on in life. The fact is, would you even know what you are looking for, and would you recognise it anyway?
Each week in this blog – "Coaching for Another Life" – there is a new insight. Nothing mystical or deep, just plain, helpful, over-the-fence understanding of life that you can make your own, to give you a lift up to something better and more fulfilling.  Explore and enjoy  the garden feature too.  You will like it!